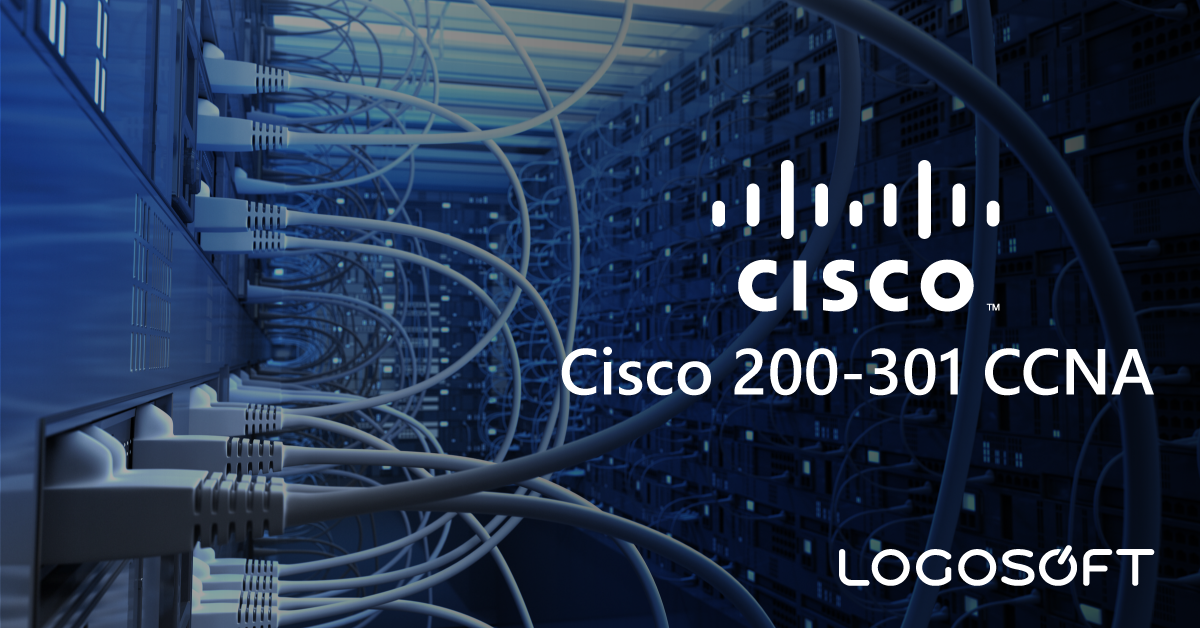 Novo u Logosoft Edukaciji: CISCO 200-301 CCNA
Poštovani prijatelji i partneri Logosoft Edukacije,
Zbog uticaja globalne pandemije uzrokovane Corona virusom, Logosoft Edukacija se brzo prilagodila i preduzela mjere zaštite uvođenjem svojih predavanja putem online platforme – uživo u virtuelnoj učionici.
Pred nama je novi live webinar kompanije CISCO, vodećeg svjetskog proizvođača mrežne opreme. Prvi put u Logosoft Edukaciji, sa ponosom Vam predstavljamo CISCO 200-301 CCNA kurs po fantastičnoj cijeni.
Datum: 20.05.2020.
Vrijeme održavanja: 18:00
Trajanje kursa: 4 sedmice
Cijena: 720,00 KM + PDV
Rok za prijavu: 18.05.2020. godine

NAPOMENA: Istaknuta cijena kursa je za prijave dva ili više uposlenika iz iste kompanije za koje odobravamo popust od 10%. Regularna cijena kursa je 800 KM + PDV. U cijenu kursa nije uključen vaučer za polaganje ispita.
Opis kursa
Kompanije CISCO je vodeći svjetski proizvođač mrežne opreme. Ukoliko želite da usavršite znanja potrebna za rad na poziciji mrežnog inžinjera, ovaj webinar će Vam pomoći u tome. CISCO CCNA (CISCO Certified Network Associate) kurs je prvi korak u sticanju u sticanju CCNA certifikata. Tokom ovog webinara će polaznici obraditi veliku količinu teoretskog znanja, koja je osnova za korištenje i konfigurisanje CISCO opreme te će steći praktična iskustva u našem virtuelnom labu. Ovaj kurs će Vam pomoći u pripremi i polaganju CISCO 200-301 CCNA ispita.
Teme
Network Fundamentals
1.1 Explain the role and function of network components,
1.2 Describe characteristics of network topology architectures,
1.3 Compare physical interface and cabling types,
1.4 Identify interface and cable issues (collisions, errors, mismatch duplex, and/or speed),
1.5 Compare TCP to UDP,
1.6 Configure and verify IPv4 addressing and subnetting,
1.7 Describe the need for private IPv4 addressing,
1.8 Configure and verify IPv6 addressing and prefix,
1.9 Compare IPv6 address types,
1.10 Verify IP parameters for Client OS (Windows, Mac OS, Linux),
1.11 Describe wireless principles,
1.12 Explain virtualization fundamentals (virtual machines),
1.13 Describe switching concept.
Network Access
2.1 Configure and verify VLANs (normal range) spanning multiple switches,
2.2 Configure and verify interswitch connectivity,
2.3 Configure and verify Layer 2 discovery protocols (CISCO Discovery Protocol and LLDP),
2.4 Configure and verify (Layer 2/Layer 3) EtherChannel (LACP),
2.5 Describe the need for and basic operations of Rapid PVST+ Spanning Tree Protocol and identify basic operations,
2.6 Compare CISCO Wireless Architectures and AP modes,
2.7 Describe physical infrastructure connections of WLAN components (AP, WLC, access/trunk ports, and LAG),
2.8 Describe AP and WLC management access connections (Telnet, SSH, HTTP, HTTPS, console, and TACACS+/RADIUS),
2.9 Configure the components of a wireless LAN access for client connectivity using GUI only such as WLAN creation, security settings, QoS profiles, and advanced WLAN settings.
IP Connectivity
3.1 Interpret the components of routing table,
3.2 Determine how a router makes a forwarding decision by default,
3.3 Configure and verify IPv4 and IPv6 static routing,
3.4 Configure and verify single area OSPFv2,
3.5 Describe the purpose of first hop redundancy protocol.
IP Services
4.1 Configure and verify inside source NAT using static and pools,
4.2 Configure and verify NTP operating in a client and server mode,
4.3 Explain the role of DHCP and DNS within the network,
4.4 Explain the function of SNMP in network operations,
4.5 Describe the use of syslog features including facilities and levels,
4.6 Configure and verify DHCP client and relay,
4.7 Explain the forwarding per-hop behavior (PHB) for QoS such as classification, marking, queuing, congestion, policing, shaping,
4.8 Configure network devices for remote access using SSH,
4.9 Describe the capabilities and function of TFTP/FTP in the network.
Security Fundamentals
5.1 Define key security concepts (threats, vulnerabilities, exploits, and mitigation techniques),
5.2 Describe security program elements (user awareness, training, and physical access control),
5.3 Configure device access control using local passwords,
5.4 Describe security password policies elements, such as management, complexity, and password alternatives (multifactor authentication, certificates, and biometrics),
5.5 Describe remote access and site-to-site VPNs,
5.6 Configure and verify access control lists,
5.7 Configure Layer 2 security features (DHCP snooping, dynamic ARP inspection, and port security),
5.8 Differentiate authentication, authorization, and accounting concepts,
5.9 Describe wireless security protocols (WPA, WPA2, and WPA3),
5.10 Configure WLAN using WPA2 PSK using the GUI.
Automation and Programmability
6.1 Explain how automation impacts network management,
6.2 Compare traditional networks with controller-based networking,
6.3 Describe controller-based and software defined architectures (overlay, underlay, and fabric),
6.4 Compare traditional campus device management with CISCO DNA Center enabled device management,
6.5 Describe characteristics of REST-based APIs (CRUD, HTTP verbs, and data encoding),
6.6 Recognize the capabilities of configuration management mechanisms Puppet, Chef, and Ansible,
6.7 Interpret JSON encoded data.
Broj mjesta na online webinaru je ograničen. Rezervišite svoje mjesto pozivom na
033 931 997
ili slanjem e-maila na
edukacija@logosoft.ba
.
Vaš Logosoft